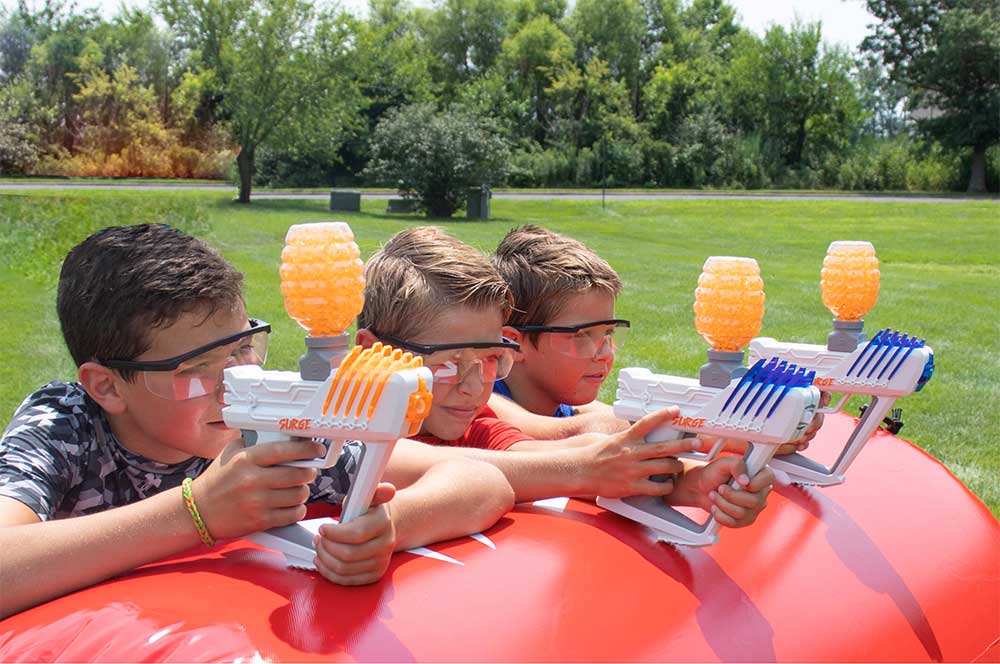 We want to make sure all of our guests have a unique adventure and enjoy their experience on and off the playing fields. We provide services and amenities to improve the quality of your experience. We are constantly adding more ways to make our customers smile and give them reasons our customers keep coming back.
Must be 3+ years old to play
Are you looking for a safe and fun option for the little ones? Look no further than Gellyballs!
The hottest new trend in safe family fun, Gellyballs are environmentally friendly and easy to enjoy! Gellyball Blasters shoot a soft gel ball, much like an Orbeez that your kids probably already play with! Shot from easy-to-use Blasters, the soft Gellyballs bounce off kids or simply disintegrate, leaving no stain, mess, or sting. 
Unlike Nerf guns, where the players have to constantly reload with ammo off the floor, a Gellyball Blaster holds 750 shots without reloading! Just pull the trigger and they shoot! With virtually no sting, Gellyball Blasters are easy even for 3-year-old kids to use!
Please Note – we require a reservation for all Gellyball activities, with a minimum of 3 hours notification prior to your intended start time and date. Due to how Gellyballs have to be prepared, we cannot accommodate walk-ins or shorter notification timing. Thank you for understanding.
Field Gellyball Player

$19.99 + tax

• Two hour play on any of our themed-fields
• 3,000 gellyballs
• Full protective gear
• Gellyball Blaster
• Protective Vest
• Eye Protection

Additional gellyballs (3,000)

$10 + tax
Paintball Fun For Everyone!
Paintball Fun for Everyone!
Book Your Next Adventure Today
Ideal  for kids, parents, families, church and corporate groups, and more! 
Looking for an extra adventure?
Crush a car with a tank, ride through the mud in an humvee or ride one of our many military vehicles!